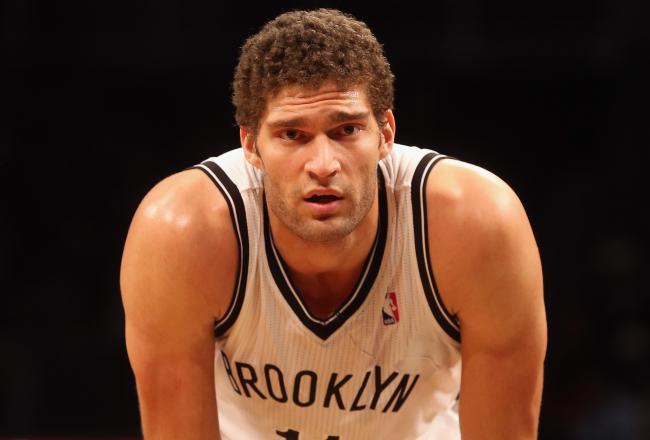 Brook Lopez
scared the Nets fan base with a injury to his right foot in the previous game against the Boston Celtics.
Stefan Bondy of the NY Daily News
reports that Lopez is suffering from a "sprained foot" and several reports indicate that he will be out for at least two games. Sprains are typical and missing two or three games should not be a big deal. But take into consideration that Lopez missed all but five games last season due to foot injuries, one of them being a hairline fracture in
the same foot he sprained during this past Celtics game
.
Luckily for the Nets, however, Howard Beck tweeted a message from from Billy King during a conference call via Twitter that should ease some tensions within Nets fans.
Key quote from Billy King today on Brook Lopez's foot sprain: "It's not related to the previous injury."
— Howard Beck (@HowardBeckNYT) November 29, 2012
It was reported that after the game Lopez seemed fine and was walking, but later reports said that Lopez cannot run and is in pain. King said that if Lopez could run, he'd be playing.
King and the Nets organization believe that two games could be the minimum time missed before the most vital Nets player returns to the lineup, but it's likely that he remains out for longer than that. Considering the results of last year's return from injury, the Nets will probably be cautious with Lopez, as it would be much worse to lose him later during the season for an extended period of time rather than now.
It is safe to say that without Lopez, the Nets would not have the 10-4 record that they have now. He is averaging 18.5 points, 6.8 rebounds and 2.5 blocks in 14 games this season and continues to be the focal point of their offense as
Joe Johnson
and
Deron Williams
struggle to find their shot. He has a PER that ranks among the top in the league and has taken strides in his defensive and rebounding efforts.
The next game two games that Lopez will surely miss are against the Orlando Magic and the Miami Heat. The game against Orlando should be winnable even without Lopez, considering that the Nets blew them out in their previous matches. The game after, however, against the Heat, will be much tougher without Lopez's presence but if
Andray Blatche
continues his strong play and a few other pieces start clicking for the Nets it might be a closer game than some might think.
Lopez has been to the Nets on offense what
Gerald Wallace
is to the team on defense and hustle. His loss will vary from big to huge, depending on how long he is out for and whether or not the Brooklyn Backcourt can find their shot and keep the momentum going.
Follow @NetsTakeOver