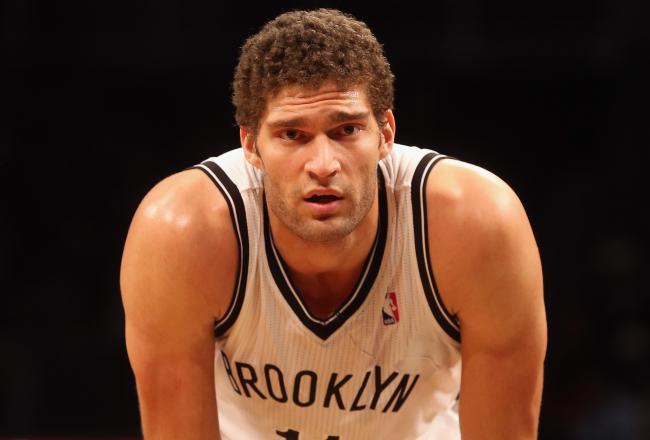 The Houston 2013 All-Star game lineups have been announced. No Net was voted in by the fans, which is understandable. What's worse though, is that
no Net was voted in as a reserve by the coaches
. Of the Nets Big 3 (
Deron Williams
,
Joe Johnson
, and
Brook Lopez
), Lopez was the most deserving. Yet he was pushed aside for the likes of
Tyson Chandler
,
Luol Deng
,
Joakim Noah
and
Chris Bosh
(what?!). Why Brook Lopez did not make it may never ever be known to the public, but we can sure tell you why he should have.
Let's start with the obvious. Brook Lopez is by FAR the best player on the Nets this season with Deron Williams and Joe Johnson not playing at their expectations. The team went 2-5 when Lopez was out and are 24-11 with him playing. He's been a vital piece to the Nets offense and, however surprising, defense. His value in those areas one can get just by watching game film. It's clear as day how valuable and how important he is.
Even if one doesn't watch Lopez play, the statistics back it up with justice.
In the Lopez-Chandler-Noah-Bosh argument, Lopez ranks 1st in points and 1st in blocks on a per 36 scale. He is also 2nd in FG% percentage along with the lowest TO%.
Here's a picture
from Twitter showcasing a quick comparison of them all.
Brook Lopez is the only player in the NBA to be averaging at least 18 points, 7 rebounds and 2 blocks per game. Oh, and he does that in just 29.4 minutes per game. That's good for 7th in the NBA for blocks and 1st among centers in points. When scaled up to 36 minutes, he is averaging 22.8 points, 9.1 rebounds, and 2.6 blocks per game. Throw in a 52.1 FG% and 73% from the line as well.
His PER numbers puts him in some elite territory. He's fourth in the NBA with a 25.42 PER behind only
LeBron James
,
Kevin Durant
and
Chris Paul
.
Where do we delve into next? His offense is unmatched by any center in the league. Despite being double-teamed, he is the leading scorer on the Nets while shooting an efficient clip. With
Lopez on the court
, the Nets score 111.5 points per 100 possessions. The team offensively is better by 4.9 points per 100 possessions with Lopez on the court as opposed to off of it. With Lopez on the floor, the team shoots better from every aspect of the court which can partially be seen through the team's eFG%. With him playing, the team's eFG% is 50.4%. With Lopez sitting, it's just 47.2%.
Defensively,
Lopez hasn't been slacking either
. he's swatting shots left and right giving him the seventh slot on the block leaders list. The team allows just 101.4 points per 100 possessions with Lopez on the court, second best on the team itself. Compared to his competition, that's better than New York Knicks' Tyson Chandler (103.7) and Miami Heat's Chris Bosh (102.2), both who made it onto the All-Star team. Opposing centers have a PER of only 16.5 against him. With Lopez off the court, the Nets allow 4.9 points than they do with him on it. Need I go on about his improve defense?
Maybe its the rebounding. Lopez, as mentioned above, is averaging just 7.4 rebounds per game.... in 29 minutes per game. His total rebounding % is at 15%, near Joakim Noah's and ahead of Chris Bosh's. In 36 minutes he's averaging 9.1 rebounds per game. That's not atrocious, and that certainly takes away the claim that he's an awful rebounder.
So then what is the reason for Lopez's snubbing? His lack of flash? His lack of outward aggressiveness? He's an excellent offensive player, arguably the best offensive center in the league, his rebounding is good and his defense has improved making him an elite shot-blocker. His all-around game is definitely better that that of Chris Bosh's (who plays with LeBron James and
Dwyane Wade
) and arguably better than Chandler and Noah.
The fans may have not voted him in, but the coaches should have.
Follow @NetsTakeOver