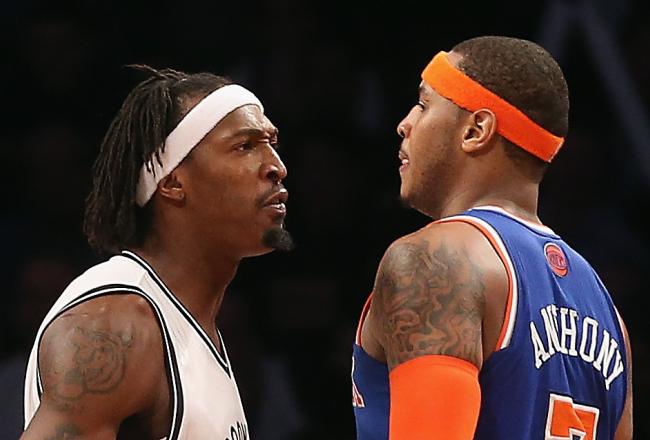 Whats not to like about Gerald "Crash" Wallace? There's no hesitation to dive for loose balls or a defender he won't guard. His tenacity with the intangibles correlates to both ends of the floor. Every team want's this kind of player and the Nets should feel special to have him.
Gerald Wallace
does not have many flaws because he is so versatile. He can play three positions, which gives the Nets an option to manipulate their lineup towards opponents.But what should his New Year's Resolution be?
Offense
: 69% of the Nets offense comes from jump-shots, despite' having three options in the starting lineup who can post. Wallace's play can help but shooting the ball is something Wallace needs to improve on. 42.6% from the field is decent when compared with his skills but with this team, its time for elevation. He is tremendous cutting to the rim, driving or controlling the fast-break. But sometimes,Wallace shy's away from shooting open shots after missing a few. His erratic jump shooting makes it easier for teams to play defense, especially with
Deron Williams
not playing his best.Wallace's plus/minus rating is
-7.2
. His shooting plays a big factor with that and it can be misleading, since Wallace is so valuable and arguably the team's leader.
Control/Leadership:
Literally, Wallace "crashes" and it is starting to effect him. He is not as young so he can't just bounce back off the floor after hard fall, missing 56 games in the last five seasons. The ironic part about this is that, his game is predicated off of hustle. So its a pick your poison type thing with him. But the Nets cannot afford Wallace to be out because there is no one else to bother the other team's superstar. He also needs to find a way to get his teammates aggressive. The Nets can become jump-shot happy which leaves Lopez out of the offense.
Gerald Wallace should get in the gym with
Joe Johnson
and Deron Williams. He can help them ,maintain an aggressive mindset and they could help him shoot at an efficient level. If Wallace can lift his three point percentage just a tad bit and stay healthy, this team would be much better.
Happy New Year!
Other players' Resolutions:
The Bench Mob: Part One
The Bench Mob: Part Two
Follow @NetsTakeOver