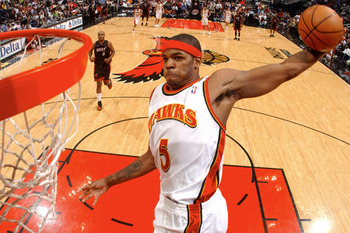 Atlanta Hawks'
Josh Smith
is nearing the end of his contract and will be looking to get paid come time for free agency. The Hawks spoke with his representatives and said they would be willing to give him a three-year, $47 million deal. Smith declined, saying he wants a longer and better deal during the summer. As of now, the Hawks are not interested in giving him one. So instead, they are entertaining Josh Smith to teams around the league. Although they have not officially put Smith on the trading block,
NBA.com reports
that general manager Danny Ferry is seeing what the market is for Smith.
Chris Broussard tweeted the following about Smith's chances of being moved.
Source close to situation says "60 percent" chance ATL trades Josh Smith b4 deadline. Brooklyn one of several teams interested.
— Chris Broussard (@Chris_Broussard) February 8, 2013
To be honest, its hard to see what the Nets can offer the Hawks to entice them and still have cap room to sign Smith to the max deal that he wants. If King did manage to pull it through, Smith would bring multiple aspects to Brooklyn that the team lacked previously. The absence of athleticism in Brooklyn has rendered them weak to team's with quicker guards or fast-paced teams. Josh Smith is an absolutely dynamic player who not only have athleticism, but also utilizes it. His defense upgrades the Nets PF position tenfold and makes them a threat in the playoffs.
However, just because the Nets are interested, it doesn't mean they are a top choice for the Hawks. Several teams are reported to be in talks as well, and depending on who they are, they more likely have better assets to give up and more cap space to absorb Josh Smith while retaining him on a max deal.
Follow @NetsTakeOver