The Nets needed a bounce back win after the debacle that occurred against the Miami Heat. The Chicago Bulls came into Brooklyn and put up a fight, but it wasn't enough as the Nets took this one 93-89. Though Chicago was short handed without
Joakim Noah
,
Carlos Boozer
,
Kirk Hinrich
, and
Derrick Rose
they didn't let the Nets take the easy win. They forced them to earn the win. And that's exactly what the Nets did.
In the first half, things started to look good for Brooklyn. They would open up the game and take an immediate 12 point lead. But that would soon evaporate as the Bulls came out firing in the second quarter. The intensity picked up for Chicago while it disappeared for the Nets. It seemed like nobody was into the game and were taking a short handed team for granted. Chicago would outscore the Nets 28-17 in the second quarter and cut that one time 12 point deficit to a one point lead. The Nets struggled mightily on both ends as Chicago was getting easy shots in the paint and then hustling down and playing solid defense to hold the Nets off.
Deron Williams
would go down with what looked like a twisted ankle after stepping on the foot of Bulls' guard
Nate Robinson
. He would return the game after getting checked out at halftime.
The second half would come along, but nothing changed for the Nets. They were playing lazy, unenergetic basketball for the second straight quarter and allowed Chicago to pull away to a six point lead. But the defensive intensity would pick up when the fourth quarter arrived. Due in most part to the efforts of the "bench mob," the Nets bounced back and played better than they had all game.
MarShon Brooks
played a key role in the fourth quarter explosion as he scored or assisted on the first nine points He finished the game with 13 points in 20 minutes of play. Chicago made it a scary game when
Luol Deng
stole an inbound and put up an easy layup cutting the Nets lead to just two. But
C.J. Watson
would get fouled and made both of the clutch free throws.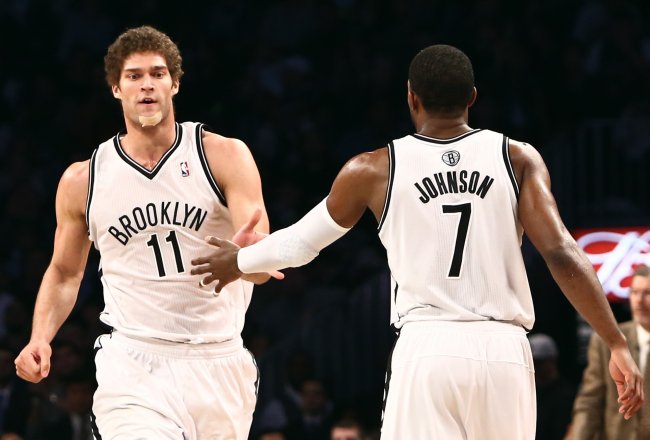 Brook Lopez
led all scorers with 20 points in just 29 minutes of play. He continues to not play more than 30 minutes a game as
Andray Blatche
provides a great backup option behind him. He finished tonight with 11 points. Deron Williams, playing half a game with an ankle injury, put up just 11 points and six assists.
Gerald Wallace
had a party on the boards with 13, five of which were offensive rebounds.
The Nets start off the month of February on a good note with a win. They have now improved to 28-19 on the season and are just a half a game out of the third seed behind Chicago. They are also just two and a half games out of first place in the Atlantic division.
Promising Stat of the Game
: Nets out-rebounding Chicago 40-29
Scary Moment of the Game
: Dero
n Williams going down in the second quarter with an ankle injury.
Follow @NetsTakeOver