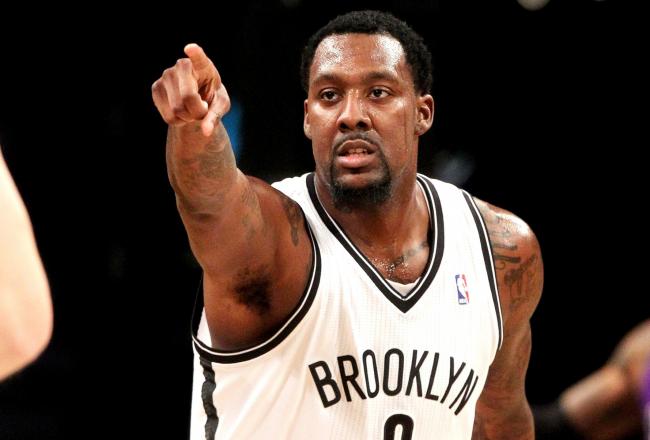 Brooklyn Nets
Andray Blatche
previously said that money
would not be an issue this coming off-season
, as the Washington Wizards still have to pay him. The less he takes, the more the Wizards need to pay. However at that time he never said where his preference would be. He said he wants to be in a situtation where he can "play and win". Some fans who wanted Blatche to stay feared that he may leave for a possible starting position some place else.
In an interview with ESPN
, Blatche stated his team of preference.
"Most definitely. I love it here (Brooklyn)," Blatche told ESPN NewYork.com on Saturday. "We've got a great team here, a great staff. The fans are crazy. I mean, everything about this organization is great, so hopefully I can come back.
"I feel like this is my new home, now, really. I feel comfortable with everything that's going on."
The Nets do not have Blatche's Bird Rights in addition to being over the salary cap, which would mean a low salary for Blatche if he chooses to resign. However, if Blatche chooses a one-year veteran minimum deal, the Nets would have his Bird Rights for the following season and could offer him a four-year, $20 million contract. Over the next two seasons, the Washington Wizards owe Blatche $16.3 million, so the money disparity is not as huge as it seems.
However, Nets fans may remember that
Gerald Green
made similar statements last season after the Nets organization rejuvenated his career. The amount of minutes and money will become a factor moving on. If Blatche doesn't believe so now, his agent will try and convince him too. He's not going to be a starter on this team, but he will be given the minutes, some of the things he's looking for next season.
"I want to play as many minutes as possible."
"I just had a bad year, bad circumstances and I let it slip away, but I still feel in my heart that, yeah, I can still be a starter in this league."
Blatche is having an amazing season this year. He's 14th in the league in PER (Player Efficiency Rating). In 18.9 minutes per game, Blatche is averaging 10.1 points per game on a career-high 50.1% shooting. He is also grabbing 5.2 rebounds per game on a career-high 16.4% rebounding rate. He's been an integral part of the Nets this season and keeping him for the future on a low contract would make fans ecstatic.
Follow @NetsTakeOver