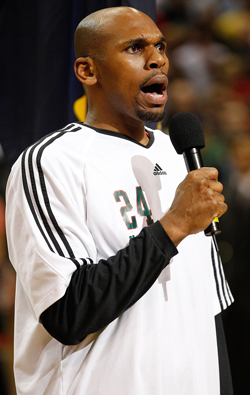 Jerry Stackhouse
has had a great career. He was great scorer early in his years with the Detroit Pistons. In the 2000-2001 season he averaged a career high of 29.8 points per game. He only played in two all-star games but he was always a valuable piece wherever he played. Fast forward to about thirteen years later in his seventeenth season, the Vice President of the NBA Players Association is contemplating retirement after this season to be stronger presence towards the union.
Playing Next Season:
"Highly unlikely. It's not completely sold that I don't get the bug (to play) again,But, really, I think this is an opportune time to kind of step to the forefront to do something with the union and try to make sure we select the right executive director.''
"I'm always going to be part of the game in some capacity,'' he said. "I'm a basketball lifer. I got a Ph.D in it.''
Stackhouse has placed his displeasure's with the direction of the Union and Billy Hunter back in February:
"I think we need wholesale changes all the way around,' 'I think everybody's pointing the finger at Billy, and rightfully so. He's made some wrong moves, but at the same time, we've sat and allowed those moves to be made.' [...] Stackhouse says Hunter isn't the only one who needs to be shown the door. 'Derek has stepped up and has really tried to grab the reins but I think he has to go too,' he said. 'If you're not aware of everything that's happened on your watch for so long, I think the whole system is flawed.'
More on the Union:
"I want to be a guy that will be able to deliver the information that we deal with on a day-to-day basis with our union and get the message back out to the players and get their feedback, I've played in all these eras, been through all these lockouts (1998-99 and last season). I've seen them all.
"The search is on (for an executive director). We're going to find that right person to help build a union that our body can really be proud of.''
Stackhouse was originally put on this team to learn how to coach and help the younger players in the league. But the inefficiencies of
MarShon Brooks
and
Keith Bogans
, he has played well for the most part when given minutes. P.J. Carlesimo has stated multiple times that he wants to use Stackhouse in the playoffs but only time will tell. He has battled injuries and Brooks has partially picked up his play but the veteran perspective will be needed in the post season.
Read More -
Fox Sports
Follow @NetsTakeOver