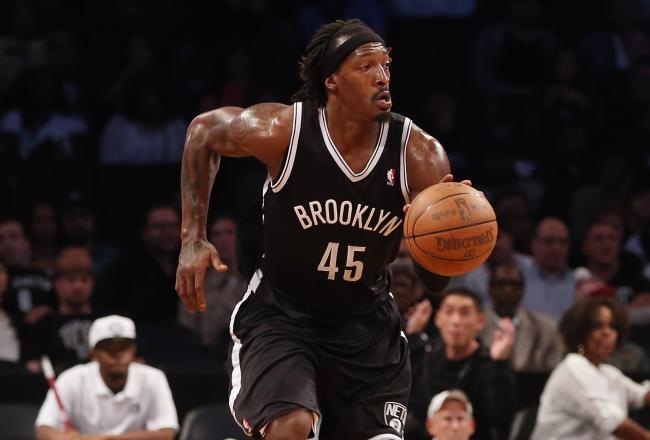 With the regular season officially over,
Gerald Wallace
averaged 7.7 points, 4.6 rebounds and 2.6 assists on 39.7% shooting from the field. He's also making $9.6 million this season.
"It's been probably the worst season I ever have experienced as far as playing basketball,'' Wallace told Newsday on Friday.
It surely has. After getting a 4-year, $40 million deal that may think was too much, Wallace helped prove his doubters right by playing an atrocious season by his standards. The Nets hoped their offense would be led by
Deron Williams
,
Joe Johnson
,
Brook Lopez
and
Gerald Wallace
, but injuries throughout the year and just general struggling has held that core back. Coming into the postseason, Wallace is coming in with a determination to negate his terrible regular season.
"It's been totally different for me, but I'm not going to complain. I'm keeping my head up and am going to try to have a successful playoff season'' Wallace said.
Due to his style of play which appropriately nicknamed him "Crash", injuries are expected at this stage of the game. After missing a couple of games with a left foot contusion, Wallace appears to be the healthiest he has been all season according to P.J. Carlesimo.
"I think he's looking the healthiest he's been in a while,'' interim coach P.J Carlesimo said. "We've had the two hardest practices since I don't know when . . . [and] you combine the games he's played recently with the two practices, and he's getting up and down the floor. He's getting off the ground and he's playing, I think, with more pep than he's played in a long time, which is a great sign.''
If Wallace can stay healthy and perform near the level at which he was expected to play, it would be a huge boost to the Nets on offense and defense. That along with Deron Williams re-emergence could be key factors in going far in the playoffs.
Newsday -
Wallace hopes to make up for regular season
Follow @NetsTakeOver