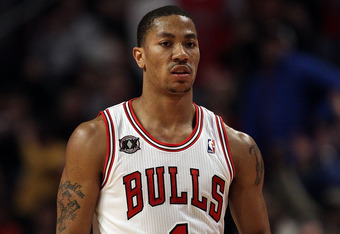 Derrick Rose
has been cleared for a few months to play but has decided not to. He has been heavily criticised but its is honestly a smart move regarding , team chemistry and injuries to other players like
Joakim Noah
. Part of the heavy criticism is due to the fact of him playing in pregame warmups. There are even a fan-made thirty minute
videos
of Rose just warming up,shooting jump shots, dunking, and then sitting back on the bench when it's game time Fans are furious but Rose has athletes on his side. Some of the Nets Players thinks he will be even better.
Deron Williams
"He's one of the best players in the game," Williams said of Rose. "Definitely a competitor. He's one of the toughest players to guard because of his speed, quickness, and athleticism at the point guard position.

"He's improved his shot so much. He's probably improved it a lot more now because he's been able to shoot jumpers for the last year."
Keith Bogans
"He's back happy and he's almost healthy again," Bogans said of Rose. "Talking to him, I know he's over it now. I know he wants to play. But probably the best thing for him to do is sit out and wait for next year.

"I went through an injury like that. Good thing about it that I keep tell him is, 'You're young. You still got a lot more time to heal up and play in this league.' So I think that was a plus for him."
We all want the former MVP to return but he should not risk another injury. But wouldn't it be interesting if he returned for game three?
Read More -
Chicago Tribune
Follow @NetsTakeOver