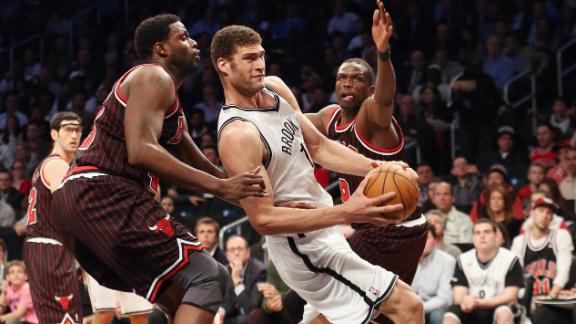 The Nets entered game two of the first round with a 1-0 series lead over the Chicago Bulls,but they couldn't duplicate what they did in game one and lost to the Bulls 90-82. The series is now tied at 1-1.
The first quarter started ugly for both teams. Offense was off to a slow start while both team defense's were solid. But the scoring began to pick up for Chicago while the Nets continued to struggle. Once the Nets offense began to get going, they were behind and were trading baskets with Chicago. That didn't work in their favor, as it never does, and they fell behind 20-17 after one. The second quarter was much better offensively for the Nets, but the defense didn't do much to help. The bench started the quarter and played pretty much no defense whatsoever. But the starters came in and really did a great job keeping the Nets in the game. They trailed 47-46 at halftime.
The third quarter was your typical Nets third quarter. The offense was bad. There isn't any other way to put it. The defense didn't do much of a job either. The Nets got outscored 22-11 in that third quarter and pretty much sealed their fate with that performance. The come-back effort in the fourth quarter was strong, but not strong enough,
Joe Johnson
seemed to have found his shot, but it looked to be just a bit of false hope. The Nets began setting for sill shots instead of taking the ball to the basket and that cost them the game in large part. They had cut the lead down to four, but that's as close as they would get in a highly disappointing effort.
Brook Lopez
led the Nets with 21 points but only grabbed five rebounds. Joe Johnson added 17 points on 6/18 shooting from the field. In an awful effort,
Deron Williams
put up 8 points on 1/9 shooting and 10 assists.
C.J. Watson
looked to be one of the only guys trying on the court, putting up 10 points off the bench.
Final Score
: 90-82 Bulls
Most Disappointing Stat of The Game
: Deron Williams 1-9 from the field
Most Promising Stat of The Game
: Joe Johnson 3 made three-pointers
Scariest Moment of The Game
: Chicago taking a 14 point lead
Best Moment of The Game
: C.J. Watson buzzer beating three at halftime
Box Score
Follow @NetsTakeOver