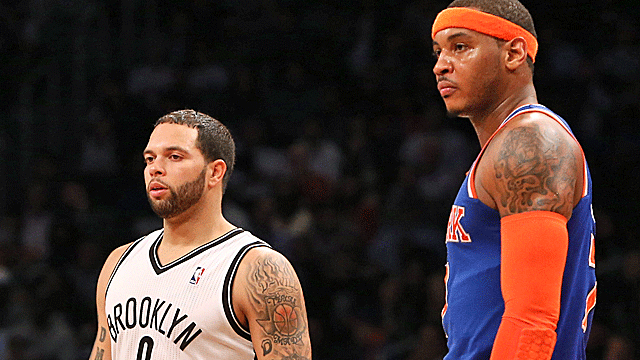 With the NBA in its "dead" time,
Carmelo Anthony
intensified the New York basketball tensions by saying that he believes that the new generation of Brooklyn residents will be Nets fans, not Knicks fans. The Nets acquisition of
Paul Pierce
,
Kevin Garnett
,
Andrei Kirilenko
and
Jason Terry
was already one of the biggest headlines of the NBA offseason and it did not go unnoticed by the Knicks. After the trade Knicks players such as
Raymond Felton
said that New York City will always belong to the Knicks while injured 6th man of the year
J.R. Smith
said the Knicks are going to win the title. The blockbuster deal involving the Celtics legends will sure be exciting for young Nets fans. Additionally, it seems like Knicks players and even fans are nervous that they are losing their grasp on the Big Apple.
Anthony's comments can be found below:
"We all know from the Jackie Robinson days, that was the last time we actually had something to believe in," Anthony said at the Bloomberg Sports Business Summit hosted by Bloomberg Link in New York. "Now, with the young kids that are coming up these days, that's their team. They grow up under the Brooklyn Nets and that's their team."
Not sure if Knicks fans will be unhappy with Melo's comments, but it sure doesn't make the Knicks look more popular.
Businessweek -
Knicks' Anthony Says Club to Lose Brooklyn Borough to Net's Fans
Follow @NetsTakeOver