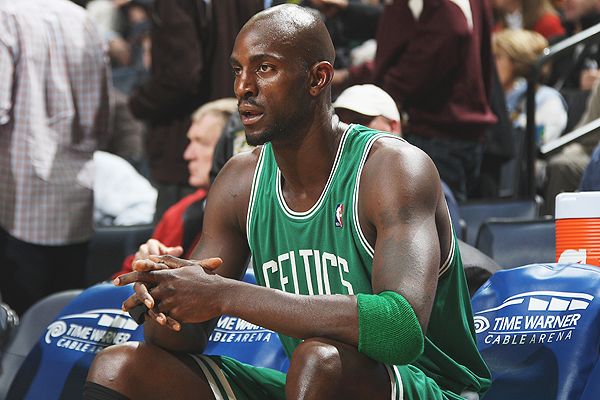 The ex-Boston Celtics head coach Doc Rivers stated on the WEEI radio in Boston that he was not surprised that
Kevin Garnett
waived his no-trade clause to leave Boston. However, its not because he wanted to leave.
"I just thought it was a tough one for him. If he has one fault as a player ... he doesn't really allow anyone to get to know him, and Kevin hates change. Hates it. [He's] extremely loyal. At the end of the day, he felt like Paul [Pierce] was gone, I was gone, Jason Terry was leaving, and that he was doing it for the right reasons. Not necessarily that he wanted to go, he just thought this was something that [Celtics general manager] Danny [Ainge] wanted. Danny wanted to rebuild, reload and he just felt like he was doing the right thing."
In addition, from an interview by
Sina Sports
(Translated using Google),
Kevin Garnett
said that if he was sent to a team without Pierce, he would retire immediately.
Moderator: Can you say if the transaction object is only you, no Pierce, you would choose to reject it?
Kevin Garnett: I would refuse, for sure, if I am a man was traded away, I would choose to retire, without a doubt, I would choose a direct retired.
Possibly a little dramatic, which fits Kevin Garnett perfectly, but Garnett's distasteful feelings about possibly playing without
Paul Pierce
or the Celtics is shown very clearly. On the bright side, since his arrival to Brooklyn, Garnett has increasingly warmed up to the idea of being a Net.
Moderator: I heard that after this season you ready to retire?
Kevin Garnett: That is a rumor, I was thinking just want to find a good place, and now Jason - Terry, Paul - Pierce told me to go with the Nets, the Nets have done coach Kidd I think for me is a good choice, I went, really looking forward to next season.
Moderator: You just talked about your new club Nets, Kidd was your team-mate, and now he pay strict enforcement do?
Kevin Garnett: Since he is my friend, so now we have a team effectiveness, make our integration easier. He is the kind of coach that will always find your problem, your small details, small problems, and then help you correct, I am very optimistic about his prospects as a head coach, with him as head coach will be able to make a success, he is a winner, won a championship, but also a competitor and want to lead the team to win. Whatever he needs me to do, to help him to make this transition, I will do it, the transition from player to coach, I will always help him.
With a chance to go to NBA Finals another time, who wouldn't?
In the same interview, Garnett talks about how the Nets were gelling, how he talked to Deron about setting up team practices, and the greatest power forwards in the league, now and in history amongst others. Below and snippets of the conversation. It's a bit of a rough translation, but its interesting.
Moderator: Eastern teams such as the forest is now the new season, the Heat and walkers are reinforced, the Bulls welcome back Rose, if you pick an Eastern opponent, who would it be?
Kevin Garnett: I told you tell the truth, and now I do not know what our team is a kind of level, what kind of state, we now have a lot of talented players, but do not know the final play into what. Heat have been together for a long time, and has won a championship, the Bulls have been playing these players together for a long time, they have a good degree of understanding, as well as walkers, they added Scola , the eastern these teams have been getting better, but we have not trained, do not know what we can be labeled, it is obvious that we have to upgrade the team lineup, but these are just remain on paper , we must seriously look at what we have labeled, we can not enter into the finals can not say, we had to look into what the future could run, of course, our ultimate goal is to get the championship. Before I knew what we can be labeled specifically before, I do not want to run into the future to answer what kind of opponent, I just want to do the current job.

Fans: Hello, Kevin, you can see here, I am very excited... Your body is now how kind, how the various aspects of the reaction, we are more concerned about your health problems.
Kevin Garnett: As you just asked me about my body, I feel great now, all parts are no problem, but as the season progresses, there may be some injuries. Because the entire season progresses, I will pay particular attention to protecting their own body, I will make their own mental focus and reduce the chance of injury.NBA season is a very, very long season, my body may be tired, but for now, my body without any problems, thank the fans questions, thank you for your concern, I hope I answered your question.
ESPN -
Rivers: Not surprised KG joined Nets
Sina Sports -
KG实录:离真理就退役 现役邓肯最强第1大前已退役
Follow @NetsTakeOver