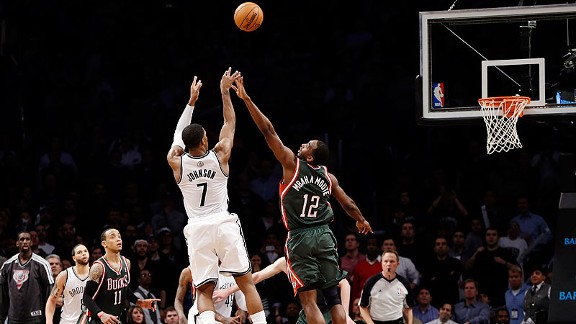 When you look at the Brooklyn Nets, you see a plethora of offensive weapons. Even last year, without Pierce, Garnett and Terry, the variety of options for the coach was more than fans could have imagined back in the last years of New Jersey. The man leading the charge down the stretch last season was the then-new addition,
Joe Johnson
.
A man who thrives for the clutch, whose embodiment has him wanting the ball in the most intense moments of the game, has only gotten there through practice.
Devin Kharpertian of The Brooklyn Game
goes in depth with Joe Johnson himself about being the go-to guy in the end. Joe Johnson got a tattoo this summer depicting who he is beneath his skin, a machine.
"It's almost like my skin peeling open," Johnson says of the ink, which flows down the inside of his right forearm. "My skin peeled back, and inside, I'm like a machine."
A machine in practice, a machine with his form, and a machine in the clutch. In game-winning shots last season, Johnson went 4-4. With 30 seconds left and the team's with one possession of each other, Johnson led the league in shooting percentage, going 8-9.
Devin wrote a brilliant piece with video clips explaining how Johnson performed in the clutch and how he adjusted and read defenders,
which you can find here.
Follow @NetsTakeOver